We are happy to have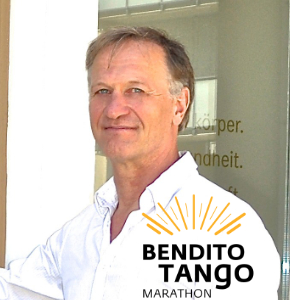 Clemens at Bendito Tango Marathon.
I offer various techniques of Massage
Lets find out together whats best for you today!
All treatments aim to boost your life energy, create a better connection to yourself, improve your balance and grounding and generally help you to move more freely in your dance.
DEEP TISSUE MASSAGE is used in sports massage. it works with firm pressure where needed to relief your tension in muscles and joints and bring your body alive!
CALIFORNIAN OIL MASSAGE is for anyone looking for a truly relaxing break ; a time to let go, relieve stress and tension and recover your life energy.
Additional I can incorporate any of the following techniques
FOOT REFLEXOLOGY
REBALANCING
JOINT RELEASE TECHNIQUE
MYOFASCIAL PAIN THERAPY
LOMI LOMI
CRANIOSACRALWORK
YURASHI
About myself
I am a dancer myself and have been working as a masseur at many dance events since 15 years as it has proved to be a popular and enriching combination!
My massage clinic is in Berlin.
Contact ++491792404960/clemenssantuens@gmail.com/
www.massagebewegt.de
Prizes
60 min  – 70 €
90 min – 90 €